1. Getaways
You can avoid people very easily especially on our new map by using the size of the map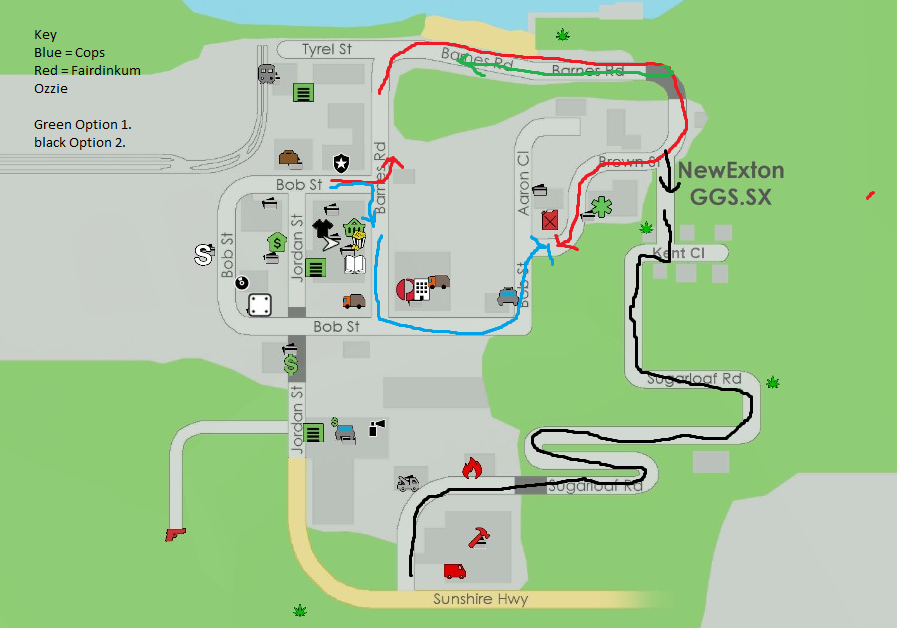 Red Is you the fairdinkum aussie (i spelt it wrong on the Graphic) In new exton there are many loops cops can use to your advantage and this loop is the most common one the cops will loose you as you usually would think then you would go down this road and boom the cops would have got you caught in this loop and they can ram the hell out of your car then but there are other options that give you a big advantage or even loose them
Option 1. this way will usually loose the cops and by the time you have used this option the cops would have noticed and lost you
Option 2. this option will give you a great or a decent advantage this is useful when there is more than one cop as they can use more tactics.
2. Racing/getaway driving
Racing helps with getaways and street racing
2.1 When turning corners you usually would go out wide to cut the corner close to gain more efficiency while turning corners
2.2 if the corner is a long sweeping corner like on sunshire HWY go as close as you can to the edge of the corner to gain efficiency and get rid of excess road
2.3 if a cop has a faster car and there right next to you slam on the breaks to delay them
2.4 use pitting or ramming to get them off the road to decrease there speed or delay them
2.5 if getting chased usually got to train station when your ahead despawn your car and hide in the train station till a train comes they usually would not have a profile of you this is also helpful in court to say it wasn't me
2.6 switching/de-spawning cars this is useful as other cars have different looks and they usually dont have a profile of your character if you just de-spawn your car and walk
2.7 if they catch you and taze your car say that the hop our button does not work and start the car as they would have not reloaded there tazer or do not have time to get it out
2.8 if you do not have illegals or anything on you it can just pull over as the charges can be little to none unless you have a warrant or are involved in crime regularly
2.9 Any car will do as long as you have the money and skills to get away ( i have gotten away in a shitty 25k range-rover before and it works ) if it is cheap it still works even with a civic engine overhauls and nos mods usually make it much easier and faster.
3. good luck with the cops.